About Patricia Krueger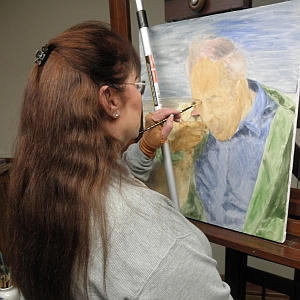 My name is Patricia Krueger-Harding, I am the second oldest of seven children and grew up in a small rural community in Hinckley, Ohio. My gift of artistic insight began to reveal itself during my early childhood years at an age of six. I was encouraged by my late father starting with crayons, but soon I found myself immersed into the rainbow of watercolor and oils. I have been primarily a self-taught artist by reading, listening and watching through the years. At ten I studied under watercolor artist Franklin Bates and later in life under the late, masterful artist and portrait painter James E. Seward.
A Portrait that Tells a Story
In painting portraits commemorating a person's life, I incorporate various meaningful images of that person's past.
To view the original images incorporated into the portrait, click on an area of the portrait you would like to see.